We are trying to develop a community where photographers can come and discuss nature, wildlife and pet photography related matters. We encourage you to enter the forums to share, make comments or ask questions about this interview or any other content of NWP.

The Nature, Wildlife and Pet Photography Forum
Artist Showcase: Alex Mustard
by James Morrissey
This interview is Copyright 2006, James Morrissey, and may not, in part or in whole, be reproduced in any electronic or printed medium without prior permission from the author. The images in this article are the property of Alex Mustard and have been licensed to James Morrissey and the NWP Photo Forum for the purpose of this interview.
Editor's Note: A link is at the end of the page if you wish to learn more about Alex Mustard and his work.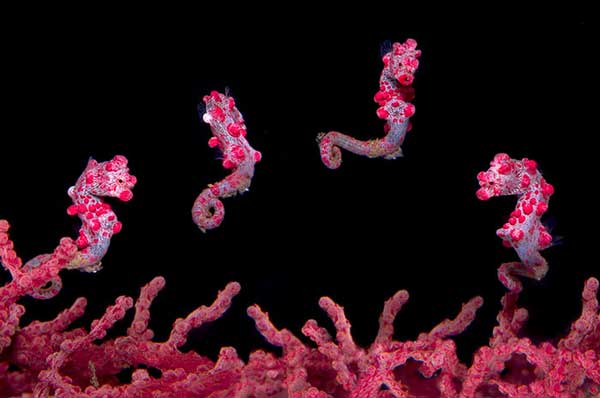 A pygmy seahorse dances across a sea-fan, Sulawesi, Indonesia. © Alexander Mustard/artofdiving.com. Nikon D100 + Nikon 105mm micro with +4 close-up dioptre. F38 @ 1/180th. 2 x underwater strobes.
Part I: About Alex Mustard
JM: Tell us a bit about yourself.
AM: I am 31. I worked as a marine biologist at the National Oceanography Centre, part of Southampton University, UK, until I was 29. I then left to start my own business continuing my science more in consultancy than in academia, but also giving me time to do more photography. To my surprise I have found that people keep giving me photographic work, and the science is now definitely the junior partner. I guess people prefer me as a photographer. So I have ended up as a photographer without really planning to! Although I would like to note that just a few months ago I published a paper in Nature, the most prestigious journal for biological sciences, so my scientific credentials are still hanging on in there.
As a youth, I was educated at boarding school here in the UK, which I attended on a scholarship. In general I found schoolwork fairly unchallenging and was able to pass all my exams without ever having to work all that hard! This gave me a lot of spare time and energy to devote to playing sport (I was school captain in several) and many other extra-curricular activities. I was always interested in photography – it was always a top 10 interest – but never a main one as I could only shoot when diving during school holidays. I was never the photographer in my group of friends.
Once I reached university I started to work hard, so I could get a degree that would get me the funded PhD I wanted. Hard work paid off and I completed my PhD by the time I was 25. My underwater photography also matured a great deal during this period and photography was certainly my main hobby.
JM: Do you have a family of your own?
AM: Nope. Managed to dodge that one so far. One of the reasons I chose to leave salaried employment when I did was that I was single, and I thought it was a good chance to experiment with photography without the pressure of having a family to support. I now earn more now than I did as a scientist (although that isn't any great achievement), but like all self employed folk, without the security of a month salary.
JM: When and how did you first begin to photograph? How were you educated?
AM: I don't remember taking pictures on land until later, so I am pretty sure that my first pictures were underwater. I was a mad keen snorkeller – but the rest of my family hated the water. When I was 9, my father brought me a basic 110 film waterproof camera. Back then I knew the name of every fish in the sea and spent hours in the water. I'd come home from holidays with a brown back and a totally white front! My photos were also very poor, although I had the time of my life taking them.
I was a keen amateur photographer for a long time. And was very proud to be so. Amateur photographers have the chance to follow their ideas and experiment much more than pros, who must deliver results. I think this allowed me to play with light underwater and try lots of different ideas. This also allowed me to develop my own style of shooting free from deadlines.
Then when I turned pro people came to me because they wanted the creative and original images that I was getting known for. So by garnering a reputation for being different actually means that I now get encouraged to be creative by clients. Although sometimes I find that people just want my name on the picture – and what they are asking for is the standard UW shot that everyone can take.
JM: What other types of professional photography have you done outside of Nature and Wildlife Photography?
AM: I would love to shoot only wildlife, but as an underwater photographer it is usually the people pictures that pay the rent. This covers everything from models and watersports (scuba and snorkelling). Before Christmas I did a commissioned shoot of dogs in a hydrotherapy pool! So if it is wet then I'll take it on – although I tend to represent myself with wildlife and diving images in my portfolio.
Also I am poor photographer on land. And that is not some feigned modesty. I am rubbish. OK, my pictures come out. But I just can't do anything original! In fact I have often thought about going on a landscape/wildlife photography course to learn how to read the light better on land and see the images.
JM: How is it you feel you can be creative under water but not on land with your photography?
AM: When I am underwater I see photographic potential all around me. I always have more ideas than time. I can read the light and I see the shots in every subject I look at. And I feel that my images don't look like other peoples and I am making a valuable contribution. On land my images come out, of course, but they look like everyone else's. I am always scratching around for ideas and I am never really sure what I want to do. In summary, I suffer from a lack of talent!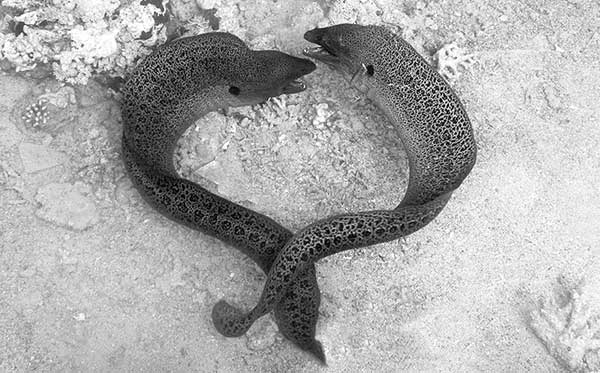 Moray eels fighting, Sinai, Egypt. © Alexander Mustard/artofdiving.com. Nikon D100 + Nikon 17-35mm. F8 @ 1/90th. 2 x underwater strobes.
JM: Who were your photographic influences?
AM: Obviously in underwater photography you have to mention David Doubilet first and foremost. He has been National Geographic's number 1 underwater photographer for all my life. In fact I think he did his first story for them about 5 years before I was born. So clearly his influence is massive. I have never met him personally. But quite a few decisions I have made to define my style have come about from trying to go in the opposite direction to his work. Although that is not always easy as his portfolio is so encompassing.
In the UK, Peter Scoones is very inspirational. He has a very experimental approach often driven by inventing and adopting new technologies. This is something I have tried to take on board. Peter is an even better cameraman than still photographer (see the BBC series Blue Planet and Planet Earth). Another Brit, Peter Rowlands is a fantastic mentor for me, and I bounce ideas of him all the time.
My favourite underwater photographers are Doug Perrine (USA), Laurent Ballesta (F), Espen Rekdal (N) and Stephen Wong (HK). I have met a couple of them, but don't know any of them well. They all have different styles and I look at all of their work for inspiration and ideas. Although my pictures don't look anything like theirs, I can certainly point to elements in certain images of mine and say – I got that from Espen or that from Laurent.
I also look to land photographers too, and learn a great deal. My current favourite nature photographers are very different. I love Jim Brandenberg for his delicacy and amazing use of light and Steve Bloom for his simple strong images.
I am a big uw photography geek in general and look at and love many photographers work. I have a great memory for images and I think a lot of amateur photographers might be surprised that I not only know their work, but I also get a lot of inspiration from it. I also use web forums to discuss and develop ideas with friends and peers I respect. Discussions on Wetpixel.com, a forum that specialises in digital underwater photography, have influenced and initiated many of my shots.
I do try to put something back too. I am not a photographer who keeps secrets. I always have more new ideas for images and like to share. I also find that writing about ideas often sharpens my own understanding of a technique. And I guess it is like the story of Cortez burning his boats. Sharing your ideas forces you too look for new ones!
JM: What formats (eg. Medium, digital, 35mm, etc). do you use for your current work?
AM: Only digital. I own both 35mm (Nikon F100) and MF (Hasselblad) underwater systems, but both are gathering dust. They are clearly inferior tools for underwater shooting compared with my Nikon D2X, for me. I am not going to argue my case. I have no time for measurebators – who want to compare every last camera spec. I find the people who talk longest and loudest about their cameras have the little to show in terms of images. And as a doctor I have heard that measurebating makes you blind (to photography)!
JM: What motivates you in the work that you do?
AM: Nobody goes into wildlife photography without a passion for creating new images and a love of time in the field to achieve this. I'm the same.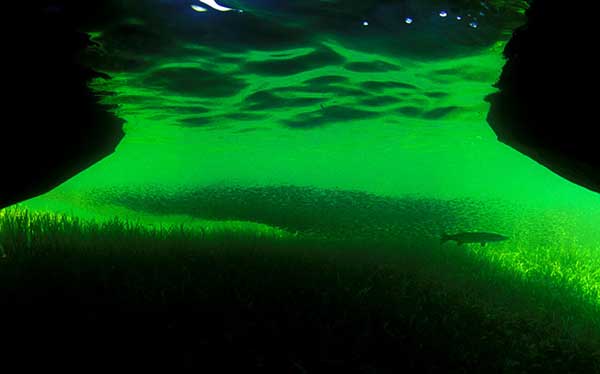 Barracuda hunting silversides over seagrass, Cayman Islands. © Alexander Mustard/artofdiving.com. Nikon F100 + Nikon 16mm fisheye. F5.6 @ 1/60th. Kodak EBX.
JM: So is the drive necessarily the urge to create something new, or is it something else? This is in reference to what drives you in your work.
AM: Artistically I driven to create new images, particularly ones that present a subject in a new light or evoke a new emotional response from the audience. One of the intellectual changes I made when I started shooting professionally was to move my point of satisfaction from creating the image, to seeing it in print. In fact these days I get annoyed by exciting images, which are sitting on my computer and haven't been published yet! But to come back to your point, yes I am a wildlife photographer who gets satisfaction from creating something interesting photographically. I am more excited about unlocking visual potential in a mundane subject than hunting out the next rare creature.
JM: You have a Doctorate in Marine Biology. Do you feel that this give your work a different perspective from other underwater photographers?
AM: Yes, but my answer is a bit controversial. I have to give you something juicy, James! I think having worked as a scientist makes me not have to be a scientist when I shoot. I think a lot of wildlife photographers are keen to demonstrate their biological credentials. The problem is that the scientists that they often want to emulate are Victorian scientists from the 1900s – who were driven by collecting as many species as possible. I find a lot of wildlife photographers think that biological science is about stamp collecting, adding another species to their collection. And the rarer the better. Science is not about this. Scientists are interested in how these species live their lives, how they interact with other species, how changes in the environment effect their lives. This is an area that I concentrate on in my photography – behaviour and ecology. I am also keen to capture very unscientific images. If I can frame or light a subject to imply more personality than is really there – then that it great. Fish need all the friends they can get.
If you are interested in learning more about Alex Mustard, you can visit: www.amustard.com.
As always, we encourage you to come join the community and to be participants in the forums! If you have not registered yet, please