We are trying to develop a community where photographers can come and discuss nature, wildlife and pet photography related matters. We encourage you to enter the forums to share, make comments or ask questions about this interview or any other content of NWP.

The Nature, Wildlife and Pet Photography Forum
Artist Showcase: Alain Briot
by James Morrissey
This interview is Copyright 2006, James Morrissey, and may not, in part or in whole, be reproduced in any electronic or printed medium without prior permission from the author. The images in this article are the property of Cameron Davidson and have been licensed to James Morrissey and the NWP Photo Forum for the purpose of this interview.
Editor's Note: A link is at the end of the page if you wish to learn more about Alain Briot and his work.
Part II: The Business Aspects of Photography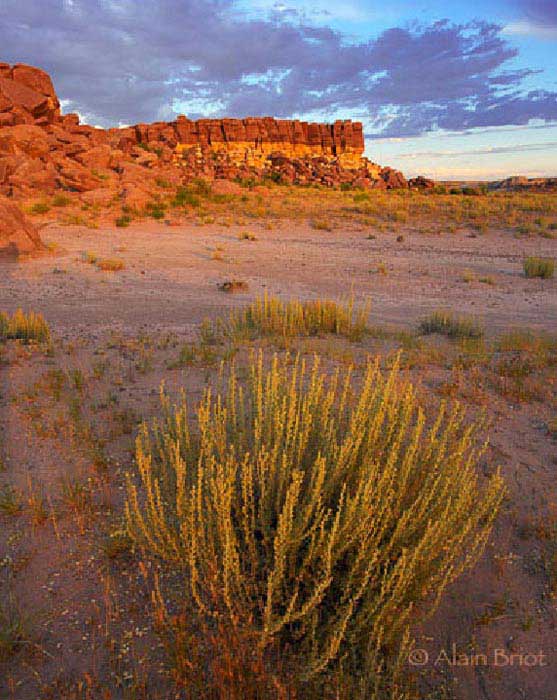 Palavayu Sunset
JM: When was the first time you were published?
AB: It was in France, in 1981, in the context of my first exhibition which was at the Journees Internationales de la Photographie in Arles. This is an event that has an international audience, and we were having a group show organized by Scott McLeay. The show was the culmination of his workshop series, which took place in 3 parts. Part 1 was an Introduction to Photography, part 2 was Advanced Photography, and part 3 was creating a Group Exhibition, all the way from conception to shooting to printing, under Scott's supervision in his own darkroom, to exhibiting in Arles. We received a lot of exposure and were published in a number of magazines and newspapers.
JM: How long did it take you from your first photographs to become regularly published?
AB: Until I decided to do photography full time I did not actively seek publication. Instead, I exhibited my work and publication was in the form of articles written by writers -journalists, reporters, etc.- about my work and myself. This happened pretty much right away, with my first show as I just described.
When I started doing photography full time I focused on selling fine art prints, and again did not seek publication. I think regular publication really started when I met Michael Reichmann and he suggested that I write essays about photography. Michael started by publishing a portfolio of my work on his site under the "Guest Photographers" section of luminous-landscape.com I then proceeded to write a regular column for his site that Michael titled "Briot's View." So in this sense Michael was my first regular publisher.
In the beginning I wrote reviews on photographic equipment and software. Later, Michael suggested that I write a series on Photography & Aesthetics. At first, I was not sure how to approach the subject so I outlined an 8 part series which addressed each of the main areas of Photography in regards to aesthetics. I then expanded the series to 11 to include essays on personal style and being an artist. The last essay in the series, which is proving one of the most difficult to write, is Being an Artist in Business. We are also starting a new series this December, also on luminous-landscape.com, titled "Reflections on Photography as Art." I am very excited about this series because it focuses on one of the areas that interests most in photography today.
Now, I am published regularly on the web. My essays have been translated in about 10 different languages (I write in English) and are linked to, or re-published, by hundreds of websites worldwide.
I am also my own publisher. I publish a large number of essays on my website, beautiful-landscape.com, written by myself as well as by other photographers, usually students. I try to bring new content once or twice a week.
JM: How did you go about approaching the magazines and other publishers when you were first starting?
AB: I just made submissions by mail. But it never was a primary goal of mine to be published in magazines. My goal was to create and sell fine art photographs and I much preferred to have a show of my work than see my photographs reproduced in magazines. It is only when I started writing articles on photography that publishing, in print or on the web, became a primary goal.
JM: How would you recommend this today?
AB: It really depends on what your goals are. I think the web is a fantastic vehicle, if you like the immediacy of this medium, which I personally do. Print works very well for some photographers, although if you seek quality reproduction -fine art quality- you are limited to a few magazines who are willing to spend the extra time and money to achieve high print quality on offset presses, something which is truly challenging. And of course there is the business side of it. Being published In a magazine may is not necessarily financially rewarding unless it becomes a regular, day in day out, outlet.
JM: You are based in the SW in Arizona. Do you feel it is possible to be a professional nature/wildlife photographer today without spending a minimum 5 months a year on the road?
It doesn't have to be on the road, it can just be photographing near where you live, which is what I have done so far since I have always lived in the landscape I photograph. But yes, I think 5 weeks, which is just over a month, would be a bare minimum. In fact, you really need to photograph year round, not just once or twice a year. I think that is the most important. Even if you can spend only a day a week, it is the regularity that counts just as much as the quantity of days you are out there photographing. Photographing regularly, every week, is one of the things that will make you improve and be successful.
JM: How do you balance your family with such an intense schedule?
AB: Natalie and I work together. We both do photography and have no other commitments. This is the key to success in our instance. I couldn't do it alone at this point, we are just too busy. It also allows me to focus on the creative part of photography while Natalie focuses on other aspects of our business.
JM: How does your website play into your business?
AB: It is one of the two primary vehicles for people to discover my work. The other one being shows. In terms of numbers I would say the two are evenly balanced. However, each venue presents unique challenges. The challenge on the web is to express the quality of a fine art print using a medium that varies from computer monitor to computer monitor. Not everyone one sees the same colors, contrast and densities because each monitor is differently calibrated. In print, everyone sees the same quality. And at a show, people see the finest quality because they are looking at actual prints and not reproductions. As a result, the comments I get the most when people purchase my work over the web is "Wow! It liked it on the web but I really love the actual print! It is so much better than I thought, and I thought it was beautiful already on the web!" So basically, making people aware that a computer monitor is only an approximation of what a fine print is really like, is the key to success here.
JM: Please describe what your business looks like currently - what are your primary sources of income photographically? And What other sources of income do you live off in the photographic business?
My main income comes from fine art prints. For a long time this was my only source of income and I did not think I would actually do anything else. But through becoming successful I found myself with extra time on my hand and at that point I had two choices: I could continue creating and selling fine art prints and then occupy the rest of my time with hobbies, or I could return something to the photographic community as a whole. I chose the second option and created a series of workshops designed to give the opportunity for photographers to study in a short time what took me years to learn. In short, the goal was to avoid having others go through what I call "the school of hard knocks," the trial and error process I had to go through because I had to learn so much on my own.
The program, because it is a complete program, includes photographing in the field, studio work focused on crafting a fine art print, matting and framing, and finally learning how to market and sell your work. When looked at as a whole, a photographer serious about starting a career selling fine art photography can, in two years or less, learn everything they need to know to get started. Of course, I cannot guarantee a specific income, as this is based on variables that are not within my control, such as the economic strength of a specific area, the motivation level of each participant and more, but what I can say is that the program is available and is, to my knowledge one of a kind because it is taught by someone who has done all of this himself successfully. Certainly, other photographers teach these subjects for other areas of photography such as stock sales, but in regards to selling fine art photographs, I know of no one else who offers a similar program.

Monument Valley Shadows
Recently, I added a CD series called Alain's Photography Tutorial CDs to complement the program. This series allows photographers who prefer not to travel or do phone consulting to benefit from this program. It is also a way to get introduced to my essays, to read what my views on photography are, and to familiarize yourself with my teaching approach.
Finally, I also offer supplies for photographers who wants to use the exact same materials I use to craft my fine art photographs. Currently, these include portfolio cases and matting. Again, the idea is to allow photographers to do what I do in a much shorter time, and allow them access to materials that are not easily available or are unaffordable. For example, to have a portfolio case made, in the same quality as the cases I use, would cost you $700 per case if you had only one or two made, which is all that most photographers need when they are starting out. It would also take you two months of work. With us, you can place an order and have it delivered immediately, and you only pay a fraction of this cost.
In regards to our teaching, it is important to know that both Natalie and I are professional instructors. For us, offering workshops, seminars and instructional materials is a fantastic opportunity to use our second source of knowledge, the first one being creating art. Natalie has a Bachelor Degree in Education and taught art at the Junior High level for 10 years. I studied all the way to the PhD and taught Writing, both creative and technical, as well as Photography, both chemical and digital, for over 7 years at the University level.
When we designed our workshop program, we decided that it would include a very strong teaching component. In fact, we centered this program around our teaching. Certainly, with field workshops, the locations we visit are very important and we select only the most photogenic locations. However, we teach photography each and every day during workshops, through lectures, presentations, one on one work and more. To us a workshop is a learning opportunity for participants and a teaching opportunity for us. We love to teach and Natalie and I each have a different approach. Natalie focuses more on teaching art and is extremely patient with each participant. I focus more on photography and on how art and photography are related, and give more field lectures and presentations.
The success of this program has been just as extraordinary as the success encountered by my fine art prints. We have had numerous students tell us how much they enjoy our workshops. A look at the testimonials on my site will show you exactly what they say. We also have had a number of photographers become extremely successful with their photography, starting to exhibit their work after working with us, or starting to sell their work. One of my students, Jason Byers, even opened his own art gallery. Many others manage their own web sites, such as Jeff Ball (html), Keron Psillas (html) and many others.
I also have a section on my site where I display students' work called the Students Gallery. Finally I am very proud of the essays that students have written about their work, essays that are published on my site in the Thoughts & Photographs series. As a whole, Natalie and I have been very impressed with the quality of the work produced by our students. To us, this is both very exciting and very rewarding.
A long time ago I read a comment made by John Sexton in response to the question "Why do you offer workshops ?" John answered that he offers workshops because he learns so much from students. When I first read his answer I did not believe it. Now, I know it is true. I have learned an immense amount from teaching. I cannot use all that I learned, but I am a better person because I learned it. This is not knowledge gained for profit. This is knowledge gained for personal growth, knowledge gained from teaching what you love, which is my instance is photography, to someone who really wants to learn it and excel at it. To me this is priceless, and I feel privileged to be in this situation.
It is also important to know that effective teaching is not something that everyone can do. For one thing, it does require training. This is a rarely discussed aspect of offering workshops. Many believe that all it takes is being a good photographer. I wish that was the case. The fact is that one needs to be both a good photographer and a good teacher. A good teacher is someone who is able to explain what they do and why they do it to others. A good teacher is someone who is able to reflect on their teaching. A good teacher is someone who remembers how the good teachers he studied under treated him. A good teacher is someone who cares for others.
At this time, in regards to our workshop program, we have over 70% return participants. There is only one reason why people keep coming back, and that is because they enjoy the experience.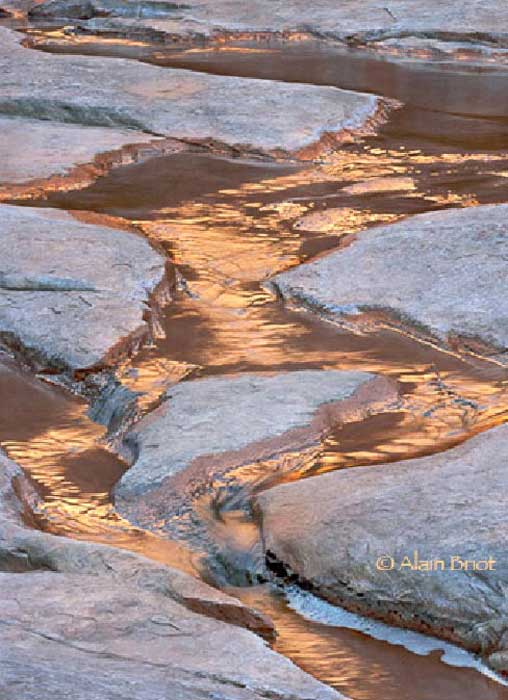 Anasazi Gold
JM: A big area of photography that is not covered is business education. Have you had education in regards to running a business? If so, what portions of a business education do you think are absolutely necessary for a person to be able to run a profitable business?
AB: I had business education and I consider it indispensable to do what I do. Not having it would be like trying to do scuba diving without proper training. In short, it's asking for trouble at best and drowning, at worst. In my case, my studies did not focus on business at all. So I attended workshops outside of the university setting to learn that aspect of running a photography business. The first workshop I ever did in this regards was offered by someone called Libby Platus. This workshop was titled "The artist in business, taking care of you own destiny." I was a GTA then, and the only reason why I attended it was because it was a free workshop, organized by the local chamber of commerce to help local artists. If I had to pay I could not have afforded it. Libby taught me the basics of a business approach that I continue to follow today, which is taking control of your destiny, of your business, rather than hope for the best and rely on outside forces to shape your life.
Later on, when I became successful selling my work, I hired a private consultant to help me with specific issues I was dealing with at the time. I could then afford to pay someone for this service. The issue I had is that I was selling too much and couldn't produce the quantity of work that I needed. I was always selling out, and therefore running out of prints that people wanted to buy. As a result, I was loosing money. The recommendation this consultant gave me was to raise my prices, basically using a simple marketing approach which is to control the volume of work sold by the price. He also told me to stop selling my smallest print size, which at the time was 8x10 mat size.
At first I was terrified at the prospect of doing what he asked. It took me several days, during my next weeklong show, to get around to doing it. But when I finally did something extraordinary happened: the volume of sales dropped only slightly, because people were buying the larger prints right away. So in fact not only was I not losing money, I was actually making more money. I had to raise my prices regularly for over a year to actually get to the point where sales were significantly lowered and I was able to reduce my workload which had become crazy prior to making these changes.
This taught me a number of extremely important things in regards to running my business. First, price is not the deciding factor for people who want to buy my work. Certainly, beyond a certain point people would not be able to afford it. But I was far below this point and didn't know it. Second, how many sales I make is not a measure of success. I now make far fewer sales than I did prior to making these changes, yet my income is higher and so is my profit margin.
One thing I did recently, for web sales, which as I explained are challenging because customers can't see the actual print quality, is introduce the Print of the Month Collection which is a collection that I only offer over the internet. Photographs in this collection are offered at a unique price, lower than my regular prices. The goal is to offer an affordable entry point for collectors to experience my work. Many later collect larger pieces because they know what the quality of my work is really like. I do not offer this collection at shows because collectors can see the quality of the work first hand. This collection is extremely well received.
The conclusion to be drawn from my experience offering low-price photographs at first then moving to more adequate prices later on, is that an artist has to make a choice between quantity and quality. It can be one or the other, but it can't be both. When I was selling a quantity of prints that exceeded my production capabilities, quality was starting to suffer. I don't think we got to the point where there actually was a drop in quality, but we would have got there eventually. After we reduced the quantity of sales, by increasing prices and increasing the size of the smallest prints we offer, we were able to not only prevent a drop in quality, but also to increase quality significantly.
Today, we are offering the highest quality prints we can produce. While there is always something that can be done better, we are doing everything we can think of to guarantee that the quality of the work we sell is the finest we are capable of producing. We spare no expenses in doing so. Not only do we use all-archival materials, we have also designed better ways of matting, mounting and framing our work.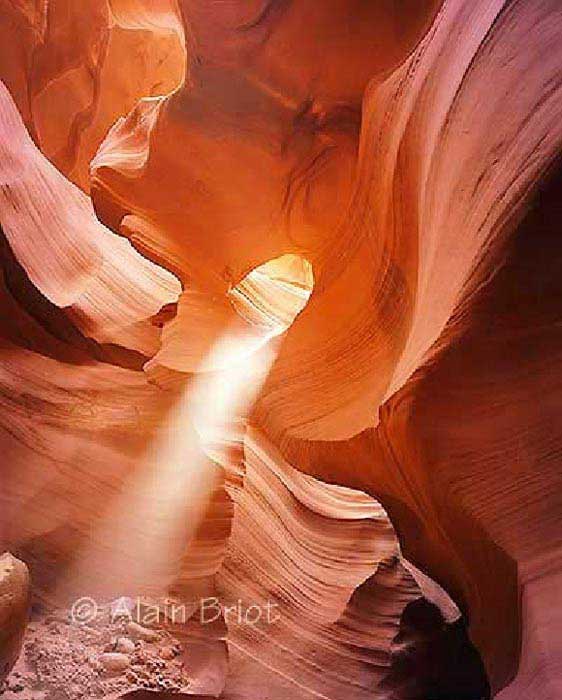 Eye of the Wind Light Shaft
We are also able to introduce work that we could never have dreamed of introducing before, such as my Navajoland Portfolio, introduced in December 2004, and my new Antelope Canyon portfolio which I will be announcing soon. These are projects that take an enormous amount of time to complete, and which we could not do if we were not having the pricing structure that we have. From a business perspective, such projects can only be successfully completed if you have the plenty of time available and if you are not rushed.
This brings us to a very interesting comment in regards to pricing art. For a long time I had a very difficult time understanding why fine art was so expensive. It was only after I was able to solve the difficulties I encountered when I was doing volume selling, that I realized why fine art prices have to be high. I now understand that prices are high because this is the only way an artist can devote the required time, and purchase the necessary supplies, to produce fine quality work. Since everything is hand made by the artist himself, the workload is huge. Similarly, quality supplies are expensive. When you add the two together you realize why artists who do not ask enough for their work cannot stay in business for very long.
Take for example the Navajoland Portfolio, or the upcoming Antelope Canyon portfolio, for which the goal is to produce the finest quality possible, bar none. Simply creating the design and the first model for the Navajoland Portfolio case took over a month. It then took another month to create the 50 cases for the limited edition. A comparable amount of time is required to craft the prints, write the text, print and bound the artist statement, assemble the portfolio, etc. etc. And the only way we can afford to do all this is by having a solid pricing structure, not just for the portfolio, but also for our entire fine art collection. If we lower our prices, we will become unable to offer portfolios. And then we all lose: as artist we are not able to create our finest work. And as collectors we are not presented with the opportunity to own the finest work.
The same holds true for everything we offer. For example, we specialize in very large sizes, 40x50 and 40x120 or even larger. Such large prints are extremely fragile when done and must be handled extremely carefully. You cannot take the necessary time preparing them for shipping, or delivering them (which is what I do if collectors live within driving distance) if you are in a hurry or if the volume of orders is overwhelming. The only way you can do it is by reducing the volume so you can increase the quality of the product. Again, it goes back to making a choice between quality versus quantity. When one increases the other decreases. Quality is our choice, and it is one of the best decisions we ever made as artists.
JM: Are you involved in the Stock Photography market?
AB: Not actively. I do stock sales when I receive a request but I do not actively market my work for stock. I have a notice on my website under "licensing" that describes how my work can be used in this context.
If you are interested in learning more about Alain Briot, you can visit: beautiful-landscape.com.
As always, we encourage you to come join the community and to be participants in the forums! If you have not registered yet, please